South Sudan - Famine has been declared and hundreds of families seek help from the Salesians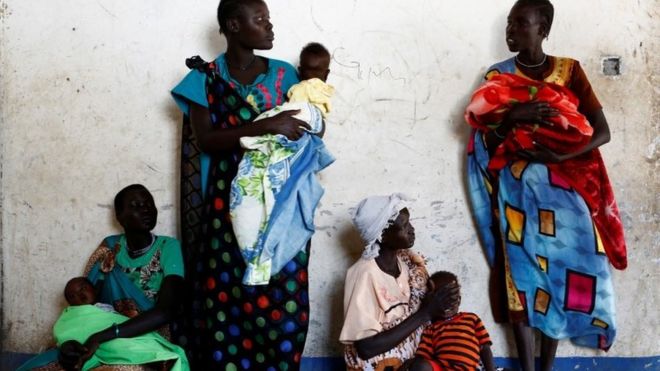 Why are there still famines?
Dear friends,
Towards the later part of February (Feb 23, 2017), the United Nations (UN) has declared a famine in parts of South Sudan. The UN doesn't declare areas as a famine zone very often. Indeed this is the first to be announced anywhere in the world in the past six years. The declaration shows the serious nature of the crisis. An estimated 100,000 people are facing starvation in South Sudan and a further 1 million there are classified as being on the brink of famine. 
After we published the news on our Associations website, the response from our members have been overwhelming. Within days, we have received numerous phone calls and emails from our members saying they are willing to help.  After consultation with our Board of Directors, we have decided to launch another fundraising drive for Salesians working for the Don Bosco Mission in South Sudan who are at the front line to serve those famine victims.
We regret we have to launch another fundraising drive for Don Bosco Mission in South Sudan only a few months after we finished our last fundraising drive for the victims of the civil war in Juba, South Sudan. However this is another crisis which we have not anticipated and we have to act quickly to offer aid to those famine victims. It is not a matter that could wait for a few more months. Here's a news clip on YouTube filed by BBC:
The Salesians have been working in Sudan and South Sudan since 1983. They know how deal with the complex political situation in these places. Your donation to Don Bosco Mission will ensure the money would reach the Salesians working at the front line where the aid is actually needed .
Making a donation is easy. Please kindly contact either Bosco Toa or myself (Peter Leung) for further information: 
Bosco Toa     604-368-6868 or Email: boscotoa@gmail.com
Peter Leung   604-306-3888 or Email: realty88@gmail.com
Yours sincerely
Don Bosco Alumni Association (BC)
Peter Leung – Fundraising Coordinator
Matthew 25.( 31-40) Then the King will say to the people on his right, . . . ."I was hungry and you fed me, thirsty and you gave me a drink; I was a stranger and you received me in your homes, naked and you clothed me; I was sick and you took care of me, in prison and you visited me."  The righteous will then answer him, "When, Lord, did we ever see you hungry and feed you, or thirsty and give you a drink? . . . . When did we ever see you sick or in prison, and visited you?"  The King will reply, "I tell you, whenever you did this for one of the least important of these brothers of mine, you did it for me!"
中華區省會長斐林豐神父所發出呼籲