South Sudan - Famine has been declared and hundreds of families seek help from the Salesians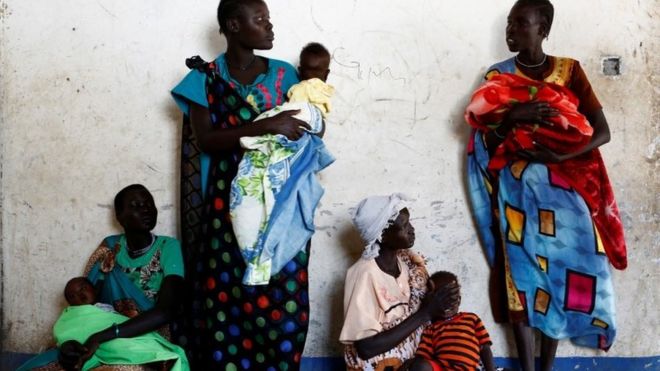 Why are there still famines?
Dear friends,
The daylight hours are getting shorter and the weather is getting cooler. It is a clear sign that winter is not far away.
My sincere apology for not having launched the Fundraising Drive for the Don Bosco Mission Office in Sudan and South Sudan due to a series of personal events.  It may be somewhat late in launching the fundraising drive  now but I guess it is better later than never.
We all heard the expression "no news is good news".  This is especially true for countries like Sudan and South Sudan.  The past year has been a relative peaceful year.  This is very good news indeed because  the fathers and sisters of the Don Bosco Mission could really focus on taking care of the young people who need their help there. 
Please do not assume one year of peace would turn a war torn country into a paradise.  A peaceful year simply means a good opportunity for them to do repairs on the damaged facilities and to prepare the foundation for other new facilities.  This means these Salesian fathers and sisters will continue to need our support. Here's a news clip on YouTube filed by BBC:
Once more I am appealing for your generous support for the work of the Don Bosco Mission in South Sudan.  Here are the ways how you can make a donation:
1) If you have an Online Banking account with one of the Canadian banks, the easy way to make your donation is to use the INTERAC e-Transfer facility provided by your bank.  Until about a year ago, there was a charge to use this facility.  Most banks have made this a FREE service now.  (Please email me if you  haven't use this facility before and would like to have more information on this)
2) Donation by credit card is also quick and easy.  Just pick up your phone and give me a call (cell: 604-306-3888) with the credit card in hand.  If I don't pick up your phone immediately (may be I am driving or talking on another line), please leave a message for me and I will call you back as soon as possible.
3) Donation by cheque also works.  Please make your cheque payable to "Don Bosco Mission Office" and have it mail to me at the following address:
            Mr. Peter Leung
            12207 Parktree Cr, Surrey, BC, V3X 1Z9
4) If you would like to make a donation by some other means (say by cash), please feel free to call me (cell: 604-306-3888).  I am sure we can work out a convenient way for your to make the donation.
All your donation to Don Bosco Mission is tax deductible.  We shall mail you an official receipt for this purpose in due course.
Once more, please reminded that South Sudan is one of the poorest countries in the world. The Salesian fathers and sisters working there are facing with lots of hardship everyday.  They need our donation to keep up their good work for the poor kids there.
Yours sincerely,
Don Bosco Alumni Association (BC)
Peter Leung – Fundraising Coordinator
Matthew 25.( 31-40) Then the King will say to the people on his right, . . . ."I was hungry and you fed me, thirsty and you gave me a drink; I was a stranger and you received me in your homes, naked and you clothed me; I was sick and you took care of me, in prison and you visited me."  The righteous will then answer him, "When, Lord, did we ever see you hungry and feed you, or thirsty and give you a drink? . . . . When did we ever see you sick or in prison, and visited you?"  The King will reply, "I tell you, whenever you did this for one of the least important of these brothers of mine, you did it for me!"
前中華區省會長斐林豐神父所發出呼籲